Why Invest in Precious Metals with TD Secure Storage?
---
Storing your bullion coins and bars at home could be especially stressful. With
TD Secure Storage
your precious metal investments are stored in a fully insured state-of-the-art vault, operated by our trusted partner Brink's. Knowing that your precious metal investments are secure may give you the peace of mind you deserve.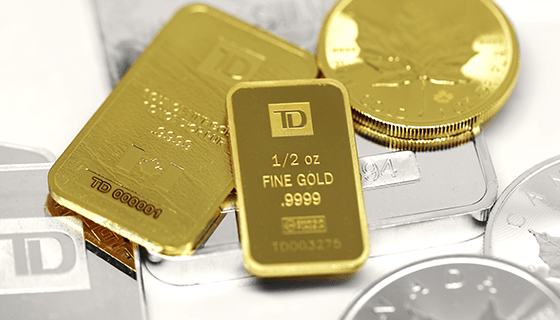 Concerns with home storage
Insurance
While insurance coverage is essential for protecting your precious metals, obtaining adequate insurance can come at a significant cost and increase your home insurance premiums.
Safekeeping
Properly storing precious metals requires knowledge and expertise. If you are unfamiliar with the best practices for handling and storing these assets, you might inadvertently damage them and compromise their value.
Storing precious metals at home can attract unwanted attention. Criminals may target you specifically for your valuable assets, leading to personal safety concerns.
In the event of a natural disaster, evacuation, or any emergency that requires you to leave your home quickly, transporting and safeguarding your precious metals can be challenging.
Resale
When you decide to sell your precious metals, you'll need to have them verified for authenticity and quality. If you store them at home, you might face additional hurdles and delays in the verification process, impacting the each of liquidity.
Peace of mind with TD Secure Storage
Insurance
Your bullion bars and coins will be fully insured.
You will not need to manage and secure your own storage and insurance arrangements personally.
Stored securely for you
Your physical precious metal investments will be stored safely in a high-security professional bullion vault.
You will be the legal owner of your bullion investments, and TD will act as your investment custodian.
You will have the option to take delivery in-person at your local TD branch or sell back to TD at any time.
TD is a federally regulated financial institution that prioritizes the security of its customers' assets.
Your bullion investments will be stored in a Brink's precious metals vault specifically designed to provide high levels of security. This includes advanced security measures such as surveillance systems, access controls, alarms, and round-the-clock security personnel to protect the stored bullion from theft, damage, or loss. The storage facility includes infrastructure that is specifically designed to preserve the quality and condition of your investments.
You will achieve geographical diversification by keeping your precious metal assets in a different location from your home or office.
Costs and resale
You can see your holdings in your Secure Storage dashboard with current pricing when authenticated on the TD Precious Metals digital store.
Selling products from a Secure Storage account can be quickly and easily done with a few clicks from your device, in-real time. No cumbersome branch visits, product inspections or account holds.
Secure Storage holdings are fully allocated. This means the products you purchase are physically held on a 1-to-1 basis at our vault.
No storage or purchase minimums
Your monthly storage fee will be the sum of charges for each ounce of metal, with a defined minimum account fee of $9.95/month. The monthly cost to store each ounce of gold, platinum and silver is $1.25, $0.90 and $0.02 respectively.
Diversifying your investment portfolio with precious metals does not have to be stressful. If you are like many savvy investors who do not want to risk storing valuable investments at home, TD Secure Storage may be a good option for you.
We invested in building TD Secure Storage because your peace of mind is important to us.