Free shipping on all orders $100.00 CAD and over. Only applicable in Canada.
Historic Launch! Be the first to own.
A redesign 35 years in the making. Be one of the firsts to add the new American Silver Eagle design to your collection1.
Celebrate Pride with TD Precious Metals!
Introducing the new ½ oz TD Pride Silver Round1,2.
100% of the net proceeds will be donated to Rainbow Railroad helping save LGBTQ2+ lives around the world.
For the love of the game.
Celebrate your passion for the game with 7 select MLB® 1 oz Silver and limited-edition colourized team rounds1,2.
® MLB 2021
TD Precious Metals
Buy gold and silver from the comfort of your home with convenient delivery to your front door or a TD branch.
Featured Products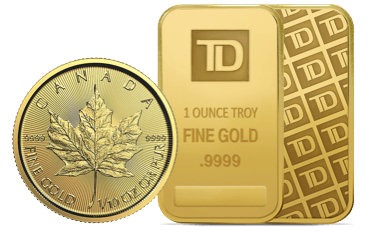 Invest in Gold
A range of products with a variety of weight options to suit every investor's needs.
Shop for Gold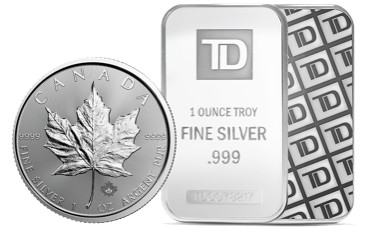 Invest in Silver
An affordable investment option that can help diversify an investment portfolio.
Shop for Silver
1 Our pricing is based off of the current TD bid and ask prices. The value of each product is dictated by the market price of gold and silver. Current market conditions may affect the value of each product and can change from second to second.

2 Limited quantity available.