Free shipping on all orders through to August 31, 2020. Only applicable in Canada.
Thank you essential workers!
We all know someone who has earned a medal.
The Royal Canadian Mint has proudly created a unique keepsake that you can wear, keep, or give to someone to express your appreciation. Plus, 100% of the net proceeds are being donated to the Breakfast Club of Canada's COVID-19 Emergency Fund.
This is gold!
Now pay for your TD Precious Metals digital store purchases directly from your TD account and take advantage of the added benefits: Preferred Pricing, Increased Transaction Limits and a Faster Checkout1.
Investor Favourites
Check out the new TD branded Gold Bars. There is something for everyone.
Previous
Next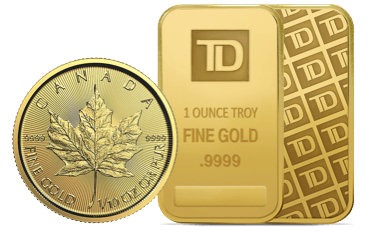 Invest in Gold
A range of products with a variety of weight options to suit every investor's needs.
Shop for Gold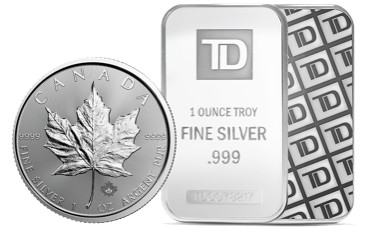 Invest in Silver
An affordable investment option that can help diversify an investment portfolio.
Shop for Silver
1Our pricing is based off of the current TD bid and ask prices. The value of each product is dictated by the market price of gold and silver. Current market conditions may affect the value of each product and can change from second to second.